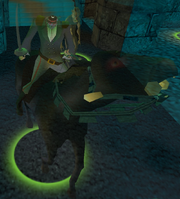 During the time of the Civil War, a mercenary dragoon ravaged the area. Killed by a band of farmers, they blew off his head with a musket.
Dragoon is a headless horseman.
Dragoon is unlocked in Spooky Hollow. To free him, his skull - which was stolen by Earl Walton - must be returned to his grave. Since freeing him is the goal of the mission anyway, Dragoon is always freed by the end of the scenario.
Fetters: Thoroughfare
Power List
[
]